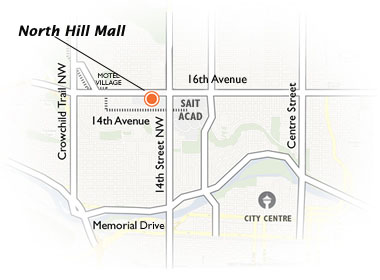 Our address is:
North Hill Shopping Centre
#263, 1632 - 14th Avenue NW
Calgary, Alberta, T2N 1M7
Directions:

North Hill Shopping Center is on the Trans Canada Highway 16th Avenue between 14 and 18 Street NW.

Direct access to the Professional Office is available from the south parking lot off 14th Ave. The entrance is adjacent to the CBI entrance east of the high rise condos. Wheelchair access is available through the mall elevators located between Freedom Mobile and Dollarama.
By LRT
The Lions Park LRT station is just outside the Southwest entrance on 14th avenue and 19th Street .
By Bus
Bus stops are located on 14 Avenue on the Southwest corner next to the Lions Park LRT station as well as on 16 Avenue NW.
If you have any questions or trouble finding our clinic, please do not hesitate to contact us – (403) 284-9323.